The moon is always jealous of the heat of the day, just as the sun always longs for something dark and deep.

– Practical Magic, Alice Hoffman
Occult Day is a day for those who wish to wander in the mysterious dark and deep. Celebrate Occult Day with these witchy books.
The Occult, Witchcraft & Magic – Christopher Dell
From the days of the earliest Paleolithic cave rituals, magic has gripped the imagination. Magic and magicians appear in early Babylonian texts, the Bible, Judaism, and Islam. Secret words, spells, and incantations lie at the heart of nearly every mythological tradition. But for every genuine magus there is an impostor.
During the Middle Ages, religion, science, and magic were difficult to set apart. The Middle Ages also saw the pursuit of alchemy—the magical transformation of base materials—which led to a fascination with the occult, Freemasonry, and Rosicrucianism.
The turn of the twentieth century witnessed a return to earlier magical traditions, and today, magic means many things: contemporary Wicca is practiced widely as a modern pagan religion in Europe and the US; "magic" also stretches to include the nonspiritual, rapid-fire sleight of hand performed by slick stage magicians who fill vast arenas.
The Occult, Witchcraft and Magic is packed with authoritative text and a huge and inspired selection of images, some chosen from unusual sources, including some of the best-known representations of magic and the occult from around the world spanning ancient to modern times.
---
Macbeth – William Shakespeare
In its concentration of interest upon the protagonists, Macbeth can be seen as Shakespeare's experiment in unity of focus, whose chief appeal arises from the struggles of the central characters with each other and with the infernal powers that inspire or govern them. Over the centuries, the vision of directors like Welles, Nunn and Polanski, as well as the eloquent talents of actors like Garrick, Siddons, Olivier and McKellen have contributed to the central debate of the play: Who or what is culpable? Bernice W. Kliman, in her analysis of Macbeth in performance, examines major productions of the play on both stage and screen, thereby inviting the reader to contemplate directors' and actors' choices for what is arguably Shakespeare's most compelling play.
---
The Magicians – Lev Grossman
A thrilling and original coming-of-age novel for adults about a young man practicing magic in the real world.
Quentin Coldwater is brilliant but miserable. A senior in high school, he's still secretly preoccupied with a series of fantasy novels he read as a child, set in a magical land called Fillory. Imagine his surprise when he finds himself unexpectedly admitted to a very secret, very exclusive college of magic in upstate New York, where he receives a thorough and rigorous education in the craft of modern sorcery.
He also discovers all the other things people learn in college: friendship, love, sex, booze, and boredom. Something is missing, though. Magic doesn't bring Quentin the happiness and adventure he dreamed it would. After graduation he and his friends make a stunning discovery: Fillory is real. But the land of Quentin's fantasies turns out to be much darker and more dangerous than he could have imagined. His childhood dream becomes a nightmare with a shocking truth at its heart.
At once psychologically piercing and magnificently absorbing, The Magicians boldly moves into uncharted literary territory, imagining magic as practiced by real people, with their capricious desires and volatile emotions. Lev Grossman creates an utterly original world in which good and evil aren't black and white, love and sex aren't simple or innocent, and power comes at a terrible price.
---
A Discovery of Witches – Deborah Harkness
Fall under the spell of Diana and Matthew in the stunning first volume of the No.1 internationally bestsellling ALL SOULS trilogy.
A world of witches, daemons and vampires. A manuscript which holds the secrets of their past and the key to their future. Diana and Matthew – the forbidden love at the heart of it.
When historian Diana Bishop opens an alchemical manuscript in the Bodleian Library, it's an unwelcome intrusion of magic into her carefully ordered life. Though Diana is a witch of impeccable lineage, the violent death of her parents while she was still a child convinced her that human fear is more potent than any witchcraft. Now Diana has unwittingly exposed herself to a world she's kept at bay for years; one of powerful witches, creative, destructive daemons and long-lived vampires. Sensing the significance of Diana's discovery, the creatures gather in Oxford, among them the enigmatic Matthew Clairmont, a vampire genticist. Diana is inexplicably drawn to Matthew and, in a shadowy world of half-truths and old enmities, ties herself to him without fully understanding the ancient line they are crossing. As they begin to unlock the secrets of the manuscript and their feelings for each other deepen, so the fragile balance of peace unravels…
---
Dime Store Magic – Kelley Armstrong
Paige Winterbourne was always either too young or too rebellious to succeed her mother as leader of one of the world's most powerful elite organizations- the American Coven of Witches. Now that she is twenty-three and her mother is dead, the Elders can no longer deny her. But even Paige's wildest antics can't hold a candle to those of her new charge- an orphan who is all too willing to use her budding powers for evil… and evil is all too willing to claim her. For this girl is being pursued by a dark faction of the supernatural underworld. They are a vicious group who will do anything to woo the young, malleable, and extremely powerful neophyte, including commit murder- and frame Paige for the crime. It's an initiation into adulthood, womanhood, and the brutal side of magic that Paige will have to do everything within her power to make sure they both survive.
---
Dead Witch Walking – Kim Harrison
Forty years ago a genetically engineered virus killed half of the world's human population and exposed creatures of dreams and nightmares that had, until then, lived in secret alongside humanity.
Rachel Morgan is a runner with the Inderland Runner Services, apprehending criminals through out modern-day Cincinnati. She is also a witch.
Used to confronting criminal vampires, dark witches and homicidal werewolves, Rachel's latest assignments – apprehending cable-stealing magic students and tax-evading leprechauns – have prompted her to break her thirty-year contract with the I.S. and start her own runner agency.
But no one quits the I.S.
Marked for death, Rachel is a dead witch walking unless she can appease her former employers and pay off her contract by exposing the city's most prominent citizen as a drug lord. But making an enemy of the ambiguous Trent Kalamack proves even more deadly than leaving the I.S.
---

Practical Magic – Alice Hoffman
The Owens sisters confront the challenges of life and love in this bewitching novel from New York Times bestselling author Alice Hoffman.
For more than two hundred years, the Owens women have been blamed for everything that has gone wrong in their Massachusetts town. Gillian and Sally have endured that fate as well: as children, the sisters were forever outsiders, taunted, talked about, pointed at. Their elderly aunts almost seemed to encourage the whispers of witchery, with their musty house and their exotic concoctions and their crowd of black cats. But all Gillian and Sally wanted was to escape.
One will do so by marrying, the other by running away. But the bonds they share will bring them back—almost as if by magic…
---
The Wise Woman – Phillipa Gregory
Alys joins a nunnery to escape the poverty of her life on the moor with her foster mother, Morach, the local wise woman with whom she lives as an outcast, but she soon finds herself thrown back into the world when Henry VIII's wreckers destroy her sanctuary. Summoned to the castle as the old lord's scribe, she falls obsessively in love with his son Hugo, who is married to Catherine. Driven to desperation by her desire, she summons the most dangerous powers Morach has taught her, but soon the passionate triangle of Alys, Hugo, and Catherine begins to explode, launching them into uncharted sexual waters. The magic Alys has conjured now has a life of its own — a life that is horrifyingly and disastrously out of control.
Is she a witch? Since heresy means the stake, and witchcraft the rope, Alys is in mortal danger, treading a perilous path between her faith and her own female power.
---

The Witches of Eastwick – John Updike
"A great deal of fun to read…Fresh, consantly entertaining….John Updike remains a wizard of language and observation."
THE PHILADELPHIA INQUIRER
In a small New England town in the late 1960s, there lived three witches. Alexandra Spofford, a sculptress, Jane Smart, a cellist, and Sukie Rougemont,the local gossip columnist. Their supernatural gifts were intriguing, to say the least. Divorced but hardly celibate, content but always ripe for adventure, one day all three witches found themselves under the spell of a new man in town, Darryl Van Horne. His hot tub was the scene of some bewitching delights, but that doesn't being to conjure the half of it….
---
Storm Front – Jim Butcher
HARRY DRESDEN — WIZARD
Lost Items Found. Paranormal Investigations. Consulting. Advice. Reasonable Rates. No Love Potions, Endless Purses, or Other Entertainment.
Harry Dresden is the best at what he does. Well, technically, he's the only at what he does. So when the Chicago P.D. has a case that transcends mortal creativity or capability, they come to him for answers. For the "everyday" world is actually full of strange and magical things—and most don't play well with humans. That's where Harry comes in. Takes a wizard to catch a—well, whatever. There's just one problem. Business, to put it mildly, stinks.
So when the police bring him in to consult on a grisly double murder committed with black magic, Harry's seeing dollar signs. But where there's black magic, there's a black mage behind it. And now that mage knows Harry's name. And that's when things start to get interesting.
Magic – it can get a guy killed.
---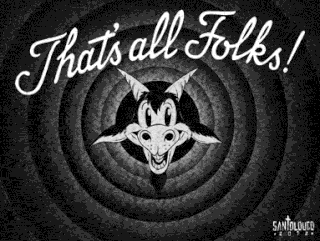 Have a happy Occult Day.
Processing…
Success! You're on the list.
Whoops! There was an error and we couldn't process your subscription. Please reload the page and try again.
Processing…
Success! You're on the list.
Whoops! There was an error and we couldn't process your subscription. Please reload the page and try again.
Synopsis from Goodreads. Photos from my Instagram @elainehowlin_
This post contains affiliate links. If you make a purchase from these links, I may earn a commission. This does not affect my review.