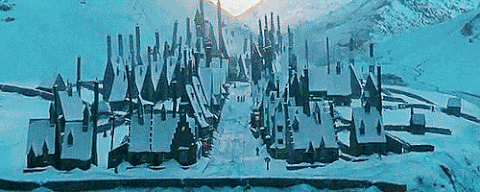 It seems to be perpetually snowy and Christmasy in Hogsmeade so what better place to base my Christmas Cake design on. A row of houses like the village is usually portrayed is a bit much for the top of a cake (and my skill level) so I opted for a little village scene. Sort of a moment in time of people out enjoying (enduring) the snow.
I chose these scenes as my starting point and worked from there.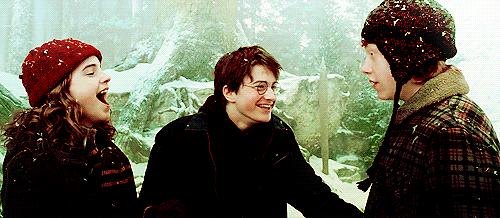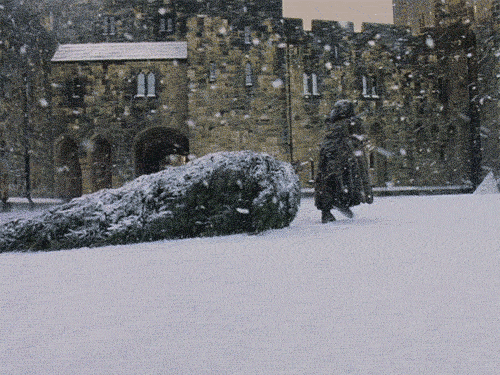 The recipe and method of this cake are inspired by the Christmas cake my mother learned to make when she was younger.
---
Recipe:
200g Glace Cherries
175g Raisins
350g Currants
400g Sultanas
150g Dried Cranberries
100g Dried Apricots
200ml Rum (more if needed and 2tbsp for feeding)
Grated rind of two Oranges
250g Butter, room temp
250g Muscovado Sugar
4 Large Eggs
1 tbsp Black Treacle
75g Self-Raising Flour
175g Plain Flour
1½tsp Mixed Ground Spice
1tsp Cinnamon
100g Chopped Almonds
Notes:
The fruit must similar size so chop up the cherries and apricots. Mix the fruit with the orange rind and rum. Cover and leave for 1 – 3 days stirring occasionally and adding more rum if the fruit is a bit dry. Mix the wet ingredients as in video and combine the flour with the ground spice and cinnamon before adding it. Grease your baking tin with butter before adding the cake mix to it. You will need a 10×10 inch baking tin for this recipe. Preheat oven to 120°c and bake for 4 – 4.5 hours. Check after 2 hours, cover with a piece of cardboard and return to the oven for another 2/2.5 hours. The cake is ready when a wooden skewer comes out clean when stuck in the middle. It's better to wait at least a day before decorating the cake.
"Harry arrived early in the Room of Requirement for the last DA meeting before the holidays and was very glad he had, because when the torches burst into flame he saw that Dobby had taken it upon himself to decorate the place for Christmas. He could tell the elf had done it, because nobody else would have strung a hundred golden baubles from the ceiling, each showing a picture of Harry's face and bearing the legend: 'HAVE A VERY HARRY CHRISTMAS!"
― J.K. Rowling, Harry Potter and the Order of the Phoenix
Images via Giphy