I expected this list to be a lot harder since I enjoyed most of the 100 plus books I read this year but it was actually pretty easy to pick out these 5.
These are my 5 favourite books that I read this year not published this year.

I am a total fangirl for this author. I love everything by her, check her website regularly for updates and I'm in fan-pages on Facebook and Goodreads. Yeah, I like her books.
Shadow's Bane is the 4th and long awaited book in Chance's Dorina Basarab series. It's hard to go into detail about this book because it would spoil the series but basically Dory is a dhampir (half-human and half-vampire) and she is hunting down slavers from fairy when she gets tangled up in a whole load of other stuff.
I mainly love this series for how Chance writes. It's like a good supernatural TV show in book form, there's a lot of action and stuff going on.
I have a full review of this book here.

This series totally surprised me. I was a bit taken aback when I realised it was science fiction and then I ended up really enjoying it. Andrews managed to blend urban fantasy and sci-fi really well together.
The Innkeeper Chronicles follows Dina who is an innkeeper of this almost sentient and inter-dimensional inn. In this book which is the third in the series, Dina is on a rescue mission for her sister and then ends up under siege from a warrior race. There were so many elements in this book that I didn't see coming and thoroughly enjoyed.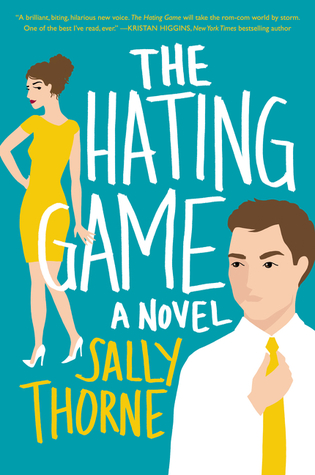 This is another book that took me by surprise. I was totally judging it by its cover and thinking it would be boring chick lit but I loved it! It was such a fun read!
It's about Lucy and Joshua who work together in an office and play these little games with one another throughout the day to annoy each other. It gets a bit serious though when they are both up for the same promotion and the tension grows and grows.
I enjoyed reading it so much. I'm looking forward to rereading it soon.

LOVED IT! It's often marketed as YA but it's completely free of those YA tropes that are often so annoying. It's a great story that was so much more than I expected.
The story follows Agnie who has been chosen by the local wizard to live in his castle for the ten years. No body knows what he does with the girls, they have their suspicions of course and they're not great. Turns out he just wants a housemaid but gets a bit more than he bargained for with Agnie.
But the real story of this book centres around the forest Agnie's village is next to. It's full of strange creatures and a force that is a deadly threat to the villagers.

So, this one is actually a series not a book (maybe a cheat…) I just couldn't decide which book out of the series was my favourite, I love them all equally! The series follows Toby Daye who is half-human and half-fae. In the very first book she is turned into a fish for 15 years and returns to find her world is quite different. Before she was changed, she was married with a small daughter living happily in the human world but now she's no longer welcome there and must return to the fae.

If I was pushed, I would probably say An Artificial Night is my favourite which is the third book in the series. In this one Toby is investigating the disappearances of human and fae children which leads her into an ancient realm of fairy where she encounters the Wild Hunt. I love this one because it has a lot to do with fear and I think McGuire has written the emotion so well into the story.
---
Processing…
Success! You're on the list.
Whoops! There was an error and we couldn't process your subscription. Please reload the page and try again.