The Irish Readathon is a readathon (or reading challenge) running for the whole month of March. The main goal is to read at least one form of Irish literature but we have some challenges that you can do as well if you want.
This year I am co-hosting the readathon with Aoife (Fred Weasley Died Laughing) and Leanne Rose who very kindly asked me to join them.
The Challenges
Read a book with a green cover
Read a book by a female Irish author
Read a book by one of the hosts favourite Irish authors; Louise O'Neill, Marian Keyes, Sarah Rees Brennan
Read a book that isn't a novel
Read a book older than you are
☘ Challenge 1: Read a Book with a Green Cover
This one doesn't necessarily need to be an Irish book, it just needs to have a green cover but it would be better if you picked an Irish book for it 😉
What happens when a psychic tells Lucy that she'll be getting married within the year? Her roommates panic! What is going to happen to their blissful existence of eating take-out, drinking too much wine, bringing men home, and never vacuuming?
Lucy reassures her friends that she's far too busy arguing with her mother and taking care of her irresponsible father to get married. And then there's the small matter of not even having a boyfriend.
But then Lucy meets gorgeous, unreliable Gus. Could he be the future Mr. Lucy Sullivan? Or could it be handsome Chuck? Or Daniel, the world's biggest flirt? Or even cute Jed, the new guy at work?
Maybe her friends have something to worry about after all….
From the bestselling author of the multi-award-winning Burial Rites
County Kerry, Ireland, 1825.
The fires on the hills smouldered orange as the women left, pockets charged with ashes to guard them from the night. Watching them fade into the grey fall of snow, Nance thought she could hear Maggie's voice. A whisper in the dark.
"Some folk are born different, Nance. They are born on the outside of things, with a skin a little thinner, eyes a little keener to what goes unnoticed by most. Their hearts swallow more blood than ordinary hearts; the river runs differently for them."
Nóra Leahy has lost her daughter and her husband in the same year, and is now burdened with the care of her four-year-old grandson, Micheál. The boy cannot walk, or speak, and Nora, mistrustful of the tongues of gossips, has kept the child hidden from those who might see in his deformity evidence of otherworldly interference.
Unable to care for the child alone, Nóra hires a fourteen-year-old servant girl, Mary, who soon hears the whispers in the valley about the blasted creature causing grief to fall upon the widow's house.
Alone, hedged in by rumour, Mary and her mistress seek out the only person in the valley who might be able to help Micheál. For although her neighbours are wary of her, it is said that old Nance Roche has the knowledge. That she consorts with Them, the Good People. And that only she can return those whom they have taken…
☘ Challenge 2: Read a Book by a Female Irish Author
It's a real shame that the male authors (Joyce, Wilde, Yeats, etc.) are usually the ones people think of when they think of Irish literature. We have some amazing contemporary female authors but classics can be very hard to find.
If the bus hadn't broken down that August afternoon on the road between Dublin and Cork, Elizabeth Sullivan would never have met George Gallaher, a travelling actor of infinite charm and fatal weakness. She would not have been forced to marry, nor found herself trapped in an alien landscape.
(If you can find it 2nd hand I highly recommend this book. It's out of print and there isn't an ebook)
New York Times bestselling author Hazel Gaynor has joined with Heather Webb to create this unforgettably romantic novel of the Great War.
August 1914. England is at war. As Evie Elliott watches her brother, Will, and his best friend, Thomas Harding, depart for the front, she believes—as everyone does—that it will be over by Christmas, when the trio plan to celebrate the holiday among the romantic cafes of Paris.
But as history tells us, it all happened so differently…
Evie and Thomas experience a very different war. Frustrated by life as a privileged young lady, Evie longs to play a greater part in the conflict—but how?—and as Thomas struggles with the unimaginable realities of war he also faces personal battles back home where War Office regulations on press reporting cause trouble at his father's newspaper business. Through their letters, Evie and Thomas share their greatest hopes and fears—and grow ever fonder from afar. Can love flourish amid the horror of the First World War, or will fate intervene?
Christmas 1968. With failing health, Thomas returns to Paris—a cherished packet of letters in hand—determined to lay to rest the ghosts of his past. But one final letter is waiting for him…
☘ Challenge 3: Read a Book by One of the Hosts Favourite Irish Authors
Louise O'Neill, Marian Keyes and Sarah Rees Brennan I chose Marian Keyes for my favourite author because she's the first author whose books I automatically bought and got really excited about reading. I was a teenager at the time though and I haven't read much of her recent work but I still love her. She posts regular chatty vlogs on YouTube and her pure Irishness is just fantastic.
It's the beginning of the summer in a small town in Ireland. Emma O'Donovan is eighteen years old, beautiful, happy, confident. One night, there's a party. Everyone is there. All eyes are on Emma.
The next morning, she wakes on the front porch of her house. She can't remember what happened, she doesn't know how she got there. She doesn't know why she's in pain. But everyone else does.
Photographs taken at the party show, in explicit detail, what happened to Emma that night. But sometimes people don't want to believe what is right in front of them, especially when the truth concerns the town's heroes…
Unspoken (The Lynburn Legacy #1) by Sarah Rees Brennan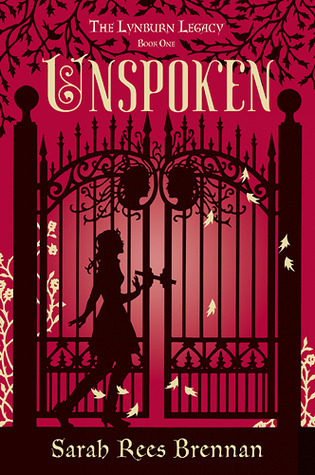 Kami Glass loves someone she's never met… a boy she's talked to in her head ever since she was born. She wasn't silent about her imaginary friend during her childhood, and is thus a bit of an outsider in her sleepy English town of Sorry-in-the-Vale. Still, Kami hasn't suffered too much from not fitting in. She has a best friend, runs the school newspaper, and is only occasionally caught talking to herself. Her life is in order, just the way she likes it, despite the voice in her head.
But all that changes when the Lynburns return.
The Lynburn family has owned the spectacular and sinister manor that overlooks Sorry-in-the-Vale for centuries. The mysterious twin sisters who abandoned their ancestral home a generation ago are back, along with their teenage sons, Jared and Ash, one of whom is eerily familiar to Kami. Kami is not one to shy away from the unknown—in fact, she's determined to find answers for all the questions Sorry-in-the-Vale is suddenly posing. Who is responsible for the bloody deeds in the depths of the woods? What is her own mother hiding? And now that her imaginary friend has become a real boy, does she still love him? Does she hate him? Can she trust him?
'Myself and Hugh . . . We're taking a break.'
'A city-with-fancy-food sort of break?'
If only.
Amy's husband Hugh says he isn't leaving her.
He still loves her, he's just taking a break – from their marriage, their children and, most of all, from their life together. Six months to lose himself in south-east Asia. And there is nothing Amy can say or do about it.
Yes, it's a mid-life crisis, but let's be clear: a break isn't a break up – yet . . .
However, for Amy it's enough to send her – along with her extended family of gossips, misfits and troublemakers – teetering over the edge.
For a lot can happen in six-months. When Hugh returns if he returns, will he be the same man she married? And will Amy be the same woman?
Because if Hugh is on a break from their marriage, then isn't she?
The Break isn't a story about falling in love but about staying in love. It is Marian Keyes at her funniest, wisest and brilliant best.
☘ Challenge 4: Read a Book that isn't a Novel
So this could be a play, poetry or non-fiction. Just something that isn't a novel.
Writers, killers, nuns, patriots, artists, healers, pirates, politicians, entertainers, saints, courtesans, leaders, revolutionaries, lovers, warriors, witches, record-breakers, and eccentrics are among the eclectic roster of Irishwomen resurrected from the dustbins of history by this "rollicking read" (according to Books Ireland).
In times when women were expected to marry and have children, they traveled the world and sought out adventures. In times when women were expected to be seen and not heard, they spoke out against oppression and used every creative means available to express their ideas and beliefs. Editor and writer Marian Broderick provides us with a series of lively portraits of seventy-five unorthodox Irishwomen. In these pages you will meet women you will never forget: Maria Edworth, Lady Jane Wilde, Lady Augusta Gregory, Peig Sayers, Nora Barnacle, Kitty Kiernan, Anne Bonny, Anne Devlin, Mother Jones, Countess Constance Markievicz, Hanna Sheey Skeffington, Fanny and Anna Parnell, Maud Gonne, St. Brighid, Margaret Leeson, Lady Betty, Queen Maeve of Connacht, Molly Brown, Kathleen Behan, Lola Monez, Daisy Bates, Greer Garson, Lilly and Lolly Yeats, and many more.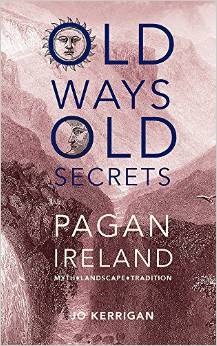 In a land like ours, the old beliefs bring pleasure and wisdom…
Exploring the legends, special places and treasured practices of old, Jo Kerrigan reveals a rich world beneath Ireland's modern layers.
So many of today's Irish traditions reach back to our ancient past, to the natural world: climbing to the summit of a mountain at harvest time; circling a revered site three, seven or nine times in a sun-wise direction; hanging offerings on a thorn tree; bringing the ailing and infirm to a sacred well.
Old Ways, Old Secrets shows us how to uncover the wisdom of the past, as fresh as it is ancient.
☘ Challenge 5: Read a Book Older than You are
This one basically means read a classic. I think when people think of Irish literature the classics are probably what comes to mind first. Yeats or Wilde would be perfect for this one and you could double up and use them for this and challenge 4.
— Nobel Prize winning writer and poet W.B. Yeats included almost every sort of Irish folk in this marvelous compendium of fairy tales and songs that he collected and edited for publication in 1892.
— Yeats was fascinated by Irish myths and folklore, and joined forces with the writers of the Irish Literary Revival. He studied Irish folk tales and chose to reintroduce the glory and significance of Ireland's past through this unique literature.
Oscar Wilde's brilliant play makes fun of the English upper classes with light-hearted satire and dazzling humour. It is 1890's England and two young gentlemen are being somewhat limited with the truth. To inject some excitement into their lives, Mr Worthing invents a brother, Earnest, as an excuse to leave his dull country life behind him to pursue the object of his desire, the ravishing Gwendolyn. While across town Algernon Montecrieff decides to take the name Earnest, when visiting Worthing's young ward Cecily. The real fun and confusion begins when the two end up together and their deceptions are in danger of being revealed.
So those are just some of the books you could read for The Irish Readathon. Most of these I have already read but some are books that I might read for the readathon. I had never heard of Sarah Rees Brennan before this and her series seems to be quite popular so I will have to check out her books.
You could also read something by Nora Roberts. She's American but bases a lot of her books in Ireland or with Irish characters.
What books by Irish authors or set in Ireland have you read?
Synopsis and book cover from Goodreads. Photos from my Instagram @elainehowlin_