I'm taking part in a reading challenge this month that announces tasks each week so I can't really plan for that but there are a few books I would like to read this month.
I'm also still playing Romanceopoly but I haven't decided on a book for that yet.
Reap the Wind (Cassie Palmer #7) by Karen Chance
Being a time traveler is a bitch, just ask Cassie Palmer. As the Pythia, or chief seer for the supernatural world, she's got responsibilities and powers — including the ability to travel through time — she still doesn't fully understand. Cassie is on what should have been a quick mission to rescue the near immortal mage John Pritkin, a friend lost in time. But nothing is ever simple where Cassie is concerned.
For one thing, her friend isn't lost, his soul is, and she must hunt for it through the ages in different versions of himself. For another, Cassis is stuck traveling with Pritkin's father, the only one who can reverse Pritkin's curse . . . and an irascible demon who is high on Cassie's list of least-favorite people. And third, the guardians of the time-line don't want anyone mucking about with it — even a Pythia like Cassie — and especially not when she's dragging a powerful demon along!
What's a poor Pythia to do?
Well, if that Pythia is Cassie Palmer, it's to carry on anyway. And in between flitting about through time, to also stop the return of an ancient and very vengeful god. And to find out the startling truth about her parents. And to sort out a few things with her charming, evasive and completely maddening vampire lover. And you thought your week was packed!
Iron Crowned (Dark Swan #3) by Richelle Mead
An embattled mystically entwined with our own,
the Otherworld is at the mercy of one woman…
Shaman-for-hire Eugenie Markham is the best at banishing entities trespassing in the mortal realm. But as the Thorn Land's queen, she's fast running out of ways to end the brutal war devastating her kingdom. Her only hope: the Iron Crown, a legendary object even the most powerful gentry fear…
Who Eugenie can trust is the hardest part. Fairy king Dorian has his own agenda for aiding her search. And Kiyo, her shape-shifter ex-boyfriend, has every reason to betray her along the way. To control the Crown's ever-consuming powers, Eugenie will have to confront an unimaginable temptation–one that will put her soul and the fate of two worlds in mortal peril…
Dorina Basarab is a dhampir-half human, half vampire. Subject to uncontrollable rages, most dhampirs live very short, very violent lives. So far Dory has managed to maintain her sanity by unleashing her anger on those demons and vampires who deserve killing.
Now Dory's vampire father has come back into her life. Her Uncle Dracula (yes, the Dracula), infamous even among vampires for his cruelty and murderous ways, has escaped his prison. And her father wants Dory to work with gorgeous master vampire Louis-Cesare to put him back there.
Vampires and dhampirs are mortal enemies, and Dory prefers to work alone. But Dracula is the only thing on Earth that truly scares her, so when Dory has to go up against him, she'll take all the help she can get… …
"Give me Harry Potter," said Voldemort's voice, "and none shall be harmed. Give me Harry Potter, and I shall leave the school untouched. Give me Harry Potter, and you will be rewarded."
As he climbs into the sidecar of Hagrid's motorbike and takes to the skies, leaving Privet Drive for the last time, Harry Potter knows that Lord Voldemort and the Death Eaters are not far behind. The protective charm that has kept Harry safe until now is broken, but he cannot keep hiding. The Dark Lord is breathing fear into everything Harry loves, and to stop him Harry will have to find and destroy the remaining Horcruxes. The final battle must begin – Harry must stand and face his enemy…
Edited and with an introduction by Roxane Gay, the New York Times bestselling and deeply beloved author of Bad Feminist and Hunger, this anthology of first-person essays tackles rape, assault, and harassment head-on.
In this valuable and revealing anthology, cultural critic and bestselling author Roxane Gay collects original and previously published pieces that address what it means to live in a world where women have to measure the harassment, violence, and aggression they face, and where they are "routinely second-guessed, blown off, discredited, denigrated, besmirched, belittled, patronized, mocked, shamed, gaslit, insulted, bullied" for speaking out. Contributions include essays from established and up-and-coming writers, performers, and critics, including actors Ally Sheedy and Gabrielle Union and writers Amy Jo Burns, Lyz Lenz, Claire Schwartz, and Bob Shacochis. Covering a wide range of topics and experiences, from an exploration of the rape epidemic embedded in the refugee crisis to first-person accounts of child molestation, this collection is often deeply personal and is always unflinchingly honest. Like Rebecca Solnit's Men Explain Things to Me, Not That Bad will resonate with every reader, saying "something in totality that we cannot say alone."
Searing and heartbreakingly candid, this provocative collection both reflects the world we live in and offers a call to arms insisting that "not that bad" must no longer be good enough.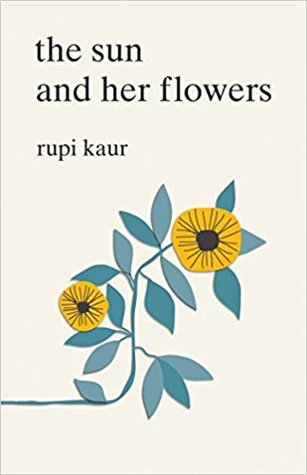 From Rupi Kaur, the #1 New York Times bestselling author of milk and honey, comes her long-awaited second collection of poetry. A vibrant and transcendent journey about growth and healing. Ancestry and honoring one's roots. Expatriation and rising up to find a home within yourself.
Divided into five chapters and illustrated by Kaur, the sun and her flowers is a journey of wilting, falling, rooting, rising, and blooming. A celebration of love in all its forms.
this is the recipe of life
said my mother
as she held me in her arms as i wept
think of those flowers you plant
in the garden each year
they will teach you
that people too
must wilt
fall
root
rise
in order to bloom