I am so happy it is summer! Time to lounge outside in the sunshine with a book, lots of sunscreen, and an ice cold drink. Heaven.
Summerathon runs from June 21-27 and is hosted on YouTube by Melanie, Jen, Heather, Aimee, and Amy.
–The Challenges–
1: Read a "beachy" read
2: Read a book with sunrise colors on the cover
3: Read a book featuring a road trip/traveling or summer vacation
4: Read a book set in summer
5: Read a book with food on the cover
6: Drink your favorite summery drink while reading
The readathon is only a week long so I will probably only get one book maybe two read but I'm going to pick out a book for each challenge and then I will just read whichever one I feel like. Some of them will actually work for more than one challenge.
🌅 Beachy Read
NetGalley has a tonne of beachy reads at the moment so I might request one of those. I've never really read what I would consider to be a beachy book before so I'm interested to try one. If I don't get a book from NetGalley I will read a cosy mystery by Charlaine Harris. I think that genre is perfect for taking it easy while reading but is still interesting enough to keep you reading.
Welcome to Shakespeare, Arkansas. Lily Bard came to the small town of Shakespeare to escape her dark and violent past. Other than the day-to-day workings of her cleaning and errand-running service, she pays little attention to the town around her. So when she spots a dead body being dumped in the town green, she's inclined to stay well away. But she was in the wrong place at the wrong time, and despite her best efforts, she's dragged into the murder case. Lily doesn't care who did it, but when the police and local community start pointing fingers in her direction, she realizes that proving her innocence will depend on finding the real killer in quiet, secretive Shakespeare.
🌅 Sunrise Colours on the Cover
Riveted (Iron Seas #3) by Meljean Brook
A century after a devastating volcanic eruption forced Iceland's inhabitants to abandon its shores, the island has become enshrouded in legend. Fishermen tell tales of giant trolls guarding the land and of seductive witches who steal men's hearts. But the truth behind the legends is mechanical, not magic—and the mystery of the island a matter of life and death for a community of women who once spilled noble blood to secure their freedom.
Five years ago, Annika unwittingly endangered that secret, but her sister Källa took the blame and was exiled. Now Annika serves on the airship Phatéon, flying from port to port in search of her sister and longing to return home . . . but that home is threatened when expedition leader David Kentewess comes aboard.
Determined to solve the mystery of his own origin, David will stop at nothing to expose Annika's secrets. But when disaster strikes, leaving David and Annika stranded on a glacier and pursued by a madman, their very survival depends on keeping the heat rising between them—and generating lots of steam . . .
🌅 Traveling/ Summer Vacation
One of those summery/beachy reads on NetGalley would probably suit this one too. If now I might read The Thorn Birds by Colleen McCullough which begins with a family traveling to Australia.
The Thorn Birds is a robust, romantic saga of a singular family, the Clearys. It begins in the early part of this century, when Paddy Cleary moves his wife, Fiona, and their seven children to Drogheda, the vast Australian sheep station owned by his autocratic and childless older sister; and it ends more than half a century later, when the only survivor of the third generation, the brilliant actress Justine O'Neill, sets a course of life and love halfway around the world from her roots.
The central figures in this enthralling story are the indomitable Meggie, the only Cleary daughter, and the one man she truly loves, the stunningly handsome and ambitious priest Ralph de Bricassart. Ralph's course moves him a long way indeed, from a remote Outback parish to the halls of the Vatican; and Meggie's except for a brief and miserable marriage elsewhere, is fixed to the Drogheda that is part of her bones – but distance does not dim their feelings though it shapes their lives.
Wonderful characters people this book; strong and gentle, Paddy, hiding a private memory; dutiful Fiona, holding back love because it once betrayed her, violent, tormented Frank, and the other hardworking Cleary sons who give the boundless lands of Drogheda the energy and devotion most men save for women; Meggie; Ralph; and Meggie's children, Justine and Dane. And the land itself; stark, relentless in its demands, brilliant in its flowering, prey to gigantic cycles of drought and flood, rich when nature is bountiful, surreal like no other place on earth.
🌅 Summer Setting
I have no idea what seasons my books are set! I had to look up a Goodreads list for some ideas for this. The only book I currently own and have yet to read from the list is Atonement by Ian McEwan.
Ian McEwan's symphonic novel of love and war, childhood and class, guilt and forgiveness provides all the satisfaction of a brilliant narrative and the provocation we have come to expect from this master of English prose.
On a hot summer day in 1935, thirteen-year-old Briony Tallis witnesses the flirtation between her older sister, Cecilia, and Robbie Turner, the son of a servant. But Briony's incomplete grasp of adult motives and her precocious imagination bring about a crime that will change all their lives, a crime whose repercussions Atonement follows through the chaos and carnage of World War II and into the close of the twentieth century.
🌅 Food on the Cover
I could only think of cosy mysteries for this one! Why is it that cosy mysteries often have food on the cover???
When Francesca's old high school crush, Todd, is accused of murder, she is convinced he is innocent. The police don't believe Todd's story, and neither does Matty.
During the busy summer tourist season at Cape Bay, Francesca sets out to prove Todd's innocence. Matty, however, investigates to prove Todd is guilty. Why does Matty detest Todd so much? But what if he's right—what if Todd is a murderer?
Includes two special recipes! This is Book 2 in The Cape Bay Cafe Mysteries. The books don't have to be read in order.
🍹 My Favourite Summer Drink
My favourite drink to have in summer is definitely prosecco. Although, to be fair, I drink it for all seasons 😉 One of my favourite ways to have it during the summer is with a dash of elderflower cordial. If you have some gin and mint you could throw those in too to make a hugo cocktail. Perfect refreshing drink for summer.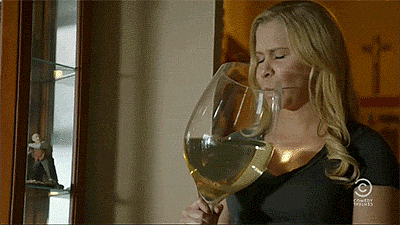 Synopsis and book covers from Goodreads
What's your favourite summer drink?