"But here I am in July, and why am I thinking about Christmas pudding? Probably because we always pine for what we do not have. The winter seems cozy and romantic in the hell of summer, but hot beaches and sunlight are what we yearn for all winter."

Joanna Franklin Bell, Take a Load Off, Mona Jamborski
I'm taking part in Jane Austen July this year which I'm really excited about. You can check out my TBR for that here.
I'm really behind on the Romanceopoly so I'm really hoping to catch up this month. I have about 20 spaces to read for between now and the end of the year which is definitely doable I just struggle with reading a book for a specific task.
July is going to be a busy month for me so I'm not expecting to get too many books read but here are the ones (other than the ones for Jane Austen July) I would like to read.
–
Six of Crows (Six of Crows #1) by Leigh Bardugo
I felt a bit deflated about the Grishaverse after finishing Ruin and Rising but so many people have told me Six of Crows is better that I'm going to pick this one up.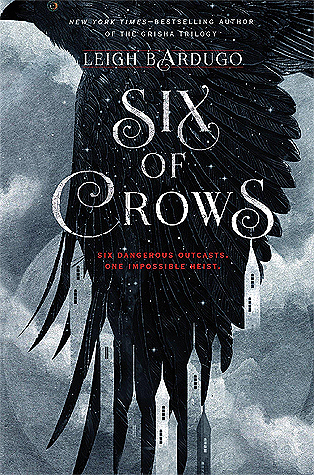 Synopsis: Ketterdam: a bustling hub of international trade where anything can be had for the right price—and no one knows that better than criminal prodigy Kaz Brekker. Kaz is offered a chance at a deadly heist that could make him rich beyond his wildest dreams. But he can't pull it off alone. . . .
A convict with a thirst for revenge

A sharpshooter who can't walk away from a wager

A runaway with a privileged past

A spy known as the Wraith

A Heartrender using her magic to survive the slums

A thief with a gift for unlikely escapes
Kaz's crew is the only thing that might stand between the world and destruction—if they don't kill each other first.
–
–
Alpha (Shifters #6) by Rachel Vincent
This series I need to finish and it suits the Leather Lane spot on romanceopoly.
Synopsis: The unscrupulous new Council chair has charged Jace, Marc and me with trespassing, kidnapping, murder and treason. Yeah, we've been busy. But now it's time to take justice into our own hands. We must avenge my brother's death and carve out the rot at the heart of the Council.
It's not going to be easy, and loss seems unavoidable, but I have promised to protect my Pride, no matter what. With a target on my back and Marc at my side, I'm heading for a final showdown that will change everything forever. A showdown I'm not sure I'm ready for.
But life never waits until you're ready.
–
I've been itching to do a reread of this and summer seems like the perfect time. It's my favourite book.
Synopsis: If the bus hadn't broken down that August afternoon on the road between Dublin and Cork, Elizabeth Sullivan would never have met George Gallaher, a travelling actor of infinite charm and fatal weakness. She would not have been forced to marry, nor found herself trapped in an alien landscape.
–
I'd like to fit some short books this month if I can. I started this one during my 24 Hours of Reading challenge and I really liked it so I want to finish it.
Synopsis: Like the May of Teck Club itself, "three times window shattered since 1940 but never directly hit," the young women of London after WWII do their best to act as if the world were back to normal: practicing elocution, jostling over suitors and a single Schiaparelli gown. Chosen by Anthony Burgess as one of the Best Modern Novels in the Sunday Times of London, The Girls of Slender Means is a taut and eerily perfect novel by an author The New York Times has called "one of this century's finest creators of comic-metaphysical entertainment."
–
What are you reading in July?