Happy springtime! Who else is pumped for the spring weather?! It's still a bit chilly here but the spring flowers are blooming, the days are longer and the sun is shining brightly more often than not. It's almost time for reading outside with a picnic.
Before that though, let's chat about some of the stuff I've been loving lately. As you probably know, March was the Irish Readathon so I read some wonderful Irish literature. I've also been trying out new recipes since becoming a meat-eater again and I picked up some new journaling items after a months long shopping hiatus.
Links provided are affiliate links. If you make a purchase from these links I will earn a moderate commission. This post contains advertisements. None of this influences my reviews.
Favourite Book | That Old Country Music by Kevin Barry
This intriguing collection of short stories expresses an understanding of rural Ireland and it's inhabitants better than anything I've come across. It's quite lyrical and beautiful but also harsh and shocking.
Synopsis:
From the author of the wildly acclaimed Night Boat to Tangier, a New York Times "Top 10" book of 2019, here are stories of contemporary Ireland: full of love (and sex), melancholy and magic, bedecked in some of the most gorgeous prose being written today.
With his three novels and two short story collections, Kevin Barry has steadily established his stature as one of the finest writers not just in Ireland but in the English language. His prodigious gifts with language, character, and setting in these eleven exquisite stories transport the reader to an Ireland both timeless and recognizably modern. Shot through with dark humour and the uncanny primal power of the Irish landscape, the stories in That Old Country Music represent some of the finest fiction being written today.
Get the book: Amazon | Book Depository
You Might Also Like: The Writer's Tea Towel
Favourite Recipe
Since I started eating meat again I've been experimenting with recipes to find out what foods I actually enjoy. Chicken is at the top of the list which I guess is no surprise. Roast chicken is probably my favourite cause I prefer the smaller pieces of dark meat to the breast which is a bit too chickeny for me.
I've been looking into different ways of making a roast and came across this recipe for Whole Roasted Garlic Chicken from Mary Berry. She includes a recipe for white wine gravy and roast vegetables but I didn't make those. I also added parsley to the garlic butter and didn't add the thyme cause I didn't have it. I decided to make Bisto gravy with two spoons of the chicken juices and reserved the rest to add to a vegetable soup I made the next day.
This chicken was insanely delicious! I highly recommend trying out the recipe. I know pulling back the skin on the chicken to put the garlic butter underneath might be a bit… gross but it's worth it! Unbelievably delicious.
Mary Berry's Whole Roasted Garlic Chicken
INGREDIENTS
1 × 1.75kg (4lb) chicken
1 lemon, cut into 6 wedges
A good sprig of fresh thyme

For the garlic butter
2 fat garlic cloves, finely chopped
50g (2oz) butter, at spreading consistency
Salt and freshly ground black pepper

For the vegetables
250g (9oz) shallots, peeled
350g small carrots
3 parsnips, peeled and sliced into thick slices
2 tablespoons olive oil

For the gravy
1 tablespoon plain flour
100ml white wine
400ml (14fl oz) chicken stock

To garnish
A small handful of fresh parsley sprigs
INSTRUCTIONS
SERVES 6
PREPARE AHEAD – Cover the prepared chicken with clingfilm. Pile the prepared vegetables in a bowl and cover. Both can be kept in the fridge for up to 24 hours. However, remember that the longer the chicken is kept before cooking, the more the garlic flavour will develop. Make sure that the chicken is at room temperature before roasting.
Preheat the oven to 200°C/180°C fan/Gas 6. You will need a large roasting tin for the chicken, large enough to hold the vegetables in a single layer, as well as the chicken. Loosen the skin from the neck end of the chicken over the breasts – use your finger to free the skin from the flesh.
Mix the butter and garlic together and season with salt and pepper. Spread the garlic butter under the skin over the breasts. Stuff the cavity with the lemon wedges and thyme sprigs then place the chicken in a roasting tin. Season with salt and pepper and roast for about 20 minutes.
Toss the prepared vegetables in oil and season with salt and pepper. Scatter the vegetables around the chicken in the roasting tin. Return to the oven for 1 hour or until the vegetables are golden and the chicken is tender, basting from time to time with the juices. Transfer the chicken to a carving board to rest and spoon the vegetables into a dish and keep warm. Sit the roasting tin on a low heat on the hob, sprinkle in the flour and whisk, scraping up the sides of the tin. Blend in the wine and stock with the whisk and bring to the boil, stirring until thickened. Carve or joint the chicken and serve with the vegetables and gravy, garnished with parsley.
You Might Also Like: Flora, Fauna and Food Vlog & Cupcake Recipe
Favourite Journaling Item | Mini Book of Posters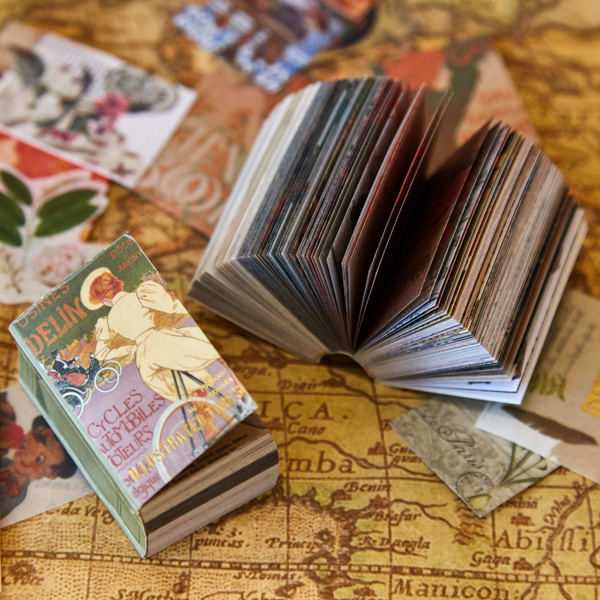 It's been so long since I bought journaling stationery from Wish. Since I started making templates and ephemera for my Etsy store, I've mostly been using those but when I spotted this little book of posters, I had to get it! It includes 200 mini vintage posters on paper and a few on type of transparent paper. The item description describes the paper as "butter paper" whatever that is… It's quite small making it perfect for creating collages or adding a vintage touch to the pages of my reading journal.
Use this code to get €5 off your Wish order: symrsvb
You Might Also Like: Gibson Girl Reading Journal Bundle
Favourite Movie | The Rental directed by Dave Franco
Two couples decide to rent a secluded Air BnB cabin for a weekend getaway. They find their host to be a bit disconcerting which is exacerbated by the discovery of a camera in the shower. Instead of confronting their host, they keep it secret out of fear of what they may have been caught doing. Little do they know, the camera had nothing to do with the owner of the house but someone else entirely.
This movie was a bit slow to get going but has a very interesting concept behind it. It brings up the question of trust in so many areas of our lives. Trust in our spouse, siblings, what we see, and our impressions of people as well as how important communication is. It's a surprising thriller with a few very well timed moments.
Available to stream on Amazon Prime Video.
You Might Also Like: November Favourites
So, that's it for my March Favourites. I look forward to chatting to you again next month with my April favourites. What have you been loving this month? Try out any new recipes? What was your favourite book?
Don't forget to share this post with your friends using the Sharing Buttons below 🧡
Where to Find Me