Links provided are affiliate links. If you make a purchase from one of these links I may earn a commission. This post contains advertisements. None of this affects my reviews or opinions.
Sign up to my mailing list for updates on content, resources and launches.
The Perfect Recipe for a Bookish Picnic
Picnics are one of the best summer activities. A bookish picnic is even better. Most of my bookish picnics take place in my back garden (even before lockdowns were a thing) but the beach or park are also perfect spots. We're keeping it bookish not getting social so a solo picnic is totally fine but it would be a great idea for your book club too.
You Might Also Like: Beautiful Bookish Necklaces
Tweet this post
The Perfect Recipe for a Bookish Picnic

Tweet
Scroll to the bottom of this post for some fun Instagram Story Templates
Share your dream bookish picnic with your friends using these templates for Instagram. You can find loads more social media templates in the Template Gallery.
You Might Also Like: Books for Fun in the Sun
Picnic Basket
What's a picnic without a picnic basket? Just sitting outside. Who wants that? We need delicious food for our day out. I'm a sucker for anything vintage, rustic or cottagecore so of course, I pack a wicker basket for my picnics. This basket from Etsy is almost identical to mine and let me tell you, nothing gives you chilled out Disney princess vibes like walking to your picnic spot with a wicker picnic basket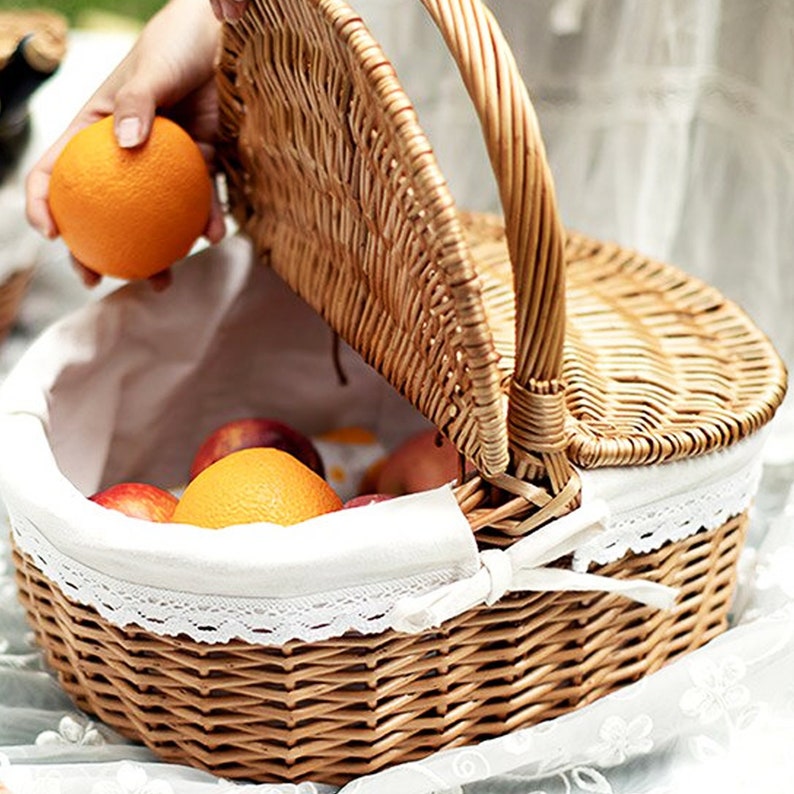 Handmade Wicker Basket Available on Etsy
Picnic Blanket
One of the most essential ingredients to any picnic is a picnic blanket. I like to layer up with blankets cause there are often hard spots on the ground even on the softest of grassy areas but what you really need is a waterproof blanket. Soil and grass love to retain moisture that your blanket will soak up if you don't have a waterproof layer on the bottom.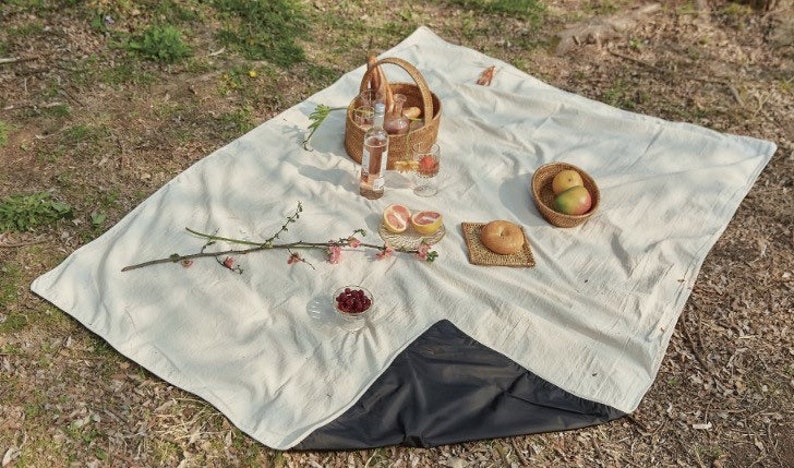 Waterproof Picnic Blanket Available on Etsy
Cushions
Ok, while your reading you're going to need some neck support. It's not exactly comfortable to read hunched over like we tend to sit for a picnic and lying flat on your back isn't great either. We need some support so surround yourself with lots of cushions and maybe set up your picnic close to a tree or a wall for extra support.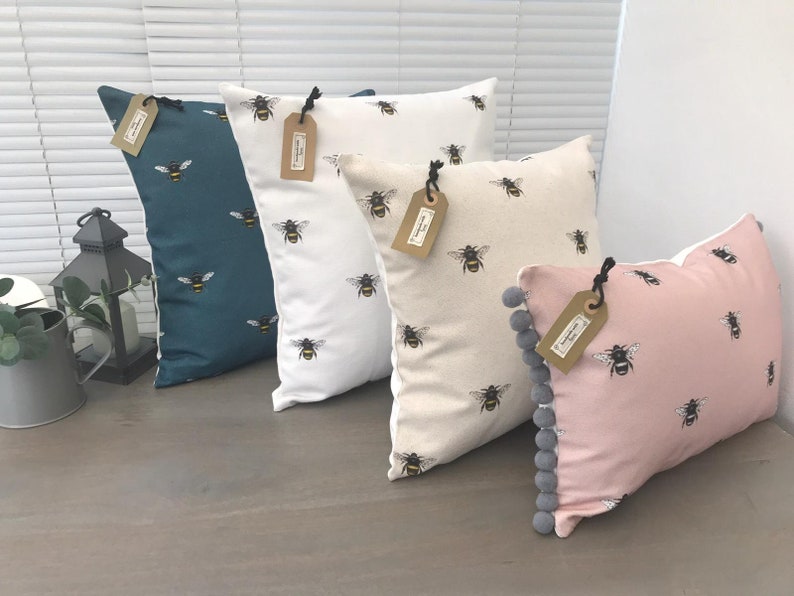 Clarke & Clarke 'Abeja' Bees Cushion Covers Available on Etsy
Bento Box & Cutlery
Now we're getting into the tasty part of this picnic. Bento boxes are perfect for packed lunches. You can keep foods separate so no soggy salad or mixed sauces. Also, you could of course just pack your regular cutlery but bamboo is the way to go if you want some special picnic cutlery. Eco and no taste of metal.
And what will you eat? Here's a list of picnic recipes from Delish to give you some ideas.
Sandwich Bags
I love Bento boxes but they're not the best for sandwiches. A nice compostable bag or reusable wrap so we can package our sandwiches tightly is what we need. There's nothing worse than a sandwich falling apart in transit. I like to cut my sandwiches in quarters to make it easier to eat them one handed. I stop reading for nothing. Not even delicious sandwiches.
Cocktail Mix
Summer means cocktails to me. The fruity Bellini is my favourite for summer and you can easily make this alcohol free by substituting the champagne/prosecco for sparkling water or Sprite.
2 cups fresh or frozen peach slices
1/3 cup Orange Juice
1 (750ml) bottle champagne, chilled
raspberries, for serving
In a blender, combine the peaches and Orange Juice. Blend until smooth. Add 2-3 tablespoons puree to wine or champagne glasses. Top off with champagne and 3-4 raspberries. Drink and enjoy!
Flask
And once we mix our cocktails/mocktails we need to keep them nice and chilled. Or you might be one of those (crazy) people that drinks hot drinks in summer. Either way a thermos flask is necessary for any picnic.
ThermoCafe Flask Available on Amazon
Ice Pack Sheet
As I mentioned above we need to keep things chill. An ice pack sheet will keep your drink cool and you can line your picnic basket with it to keep all of your food cool. Perfect if you have fruit or dairy. There's nothing a like cheese and crackers for a bookish picnic.
Ice Pack Sheet Available on Amazon
Sun Protection
As a pale redhead, I take sun care very seriously. You may not be as sensitive to the sun as me, but you should still protect yourself from sun damage. Especially when you're out for a day of reading when you may end up sitting outside for several hours. Hydrate, top up your sunscreen every two hours, wear a hat and sunglasses. If it's really sunny and hot, set up your picnic in a shady spot or bring a parasol.
Portable Bluetooth Speaker
Now, I was in two minds about this one. I hate when your at the beach or park and some one is playing their shite music loudly but when you're having a back garden picnic or you manage to find a secluded spot, then you gotta have music! Nature sounds are lovely and relaxing but a reading picnic may last a few hours so some background music is nice to have. I love this portable bluetooth speaker from Ankor. It's size is perfect for bringing on your picnic and the colour is so pretty.
Anker Soundcore Available on Amazon
And what will you listen to? A picnic playlist of course.
Book Page Holder
Anyone who has ever read a paperback outside knows the pain and constant annoyance that is the wind blowing your book pages. It doesn't even have to be that windy to do it. A gentle breeze can torment you. This handy bookmark and thumb page holder set from Etsy is the perfect solution. The bookmark can hold down the top of the page if needed and the thumb holder will keep the pages open for you.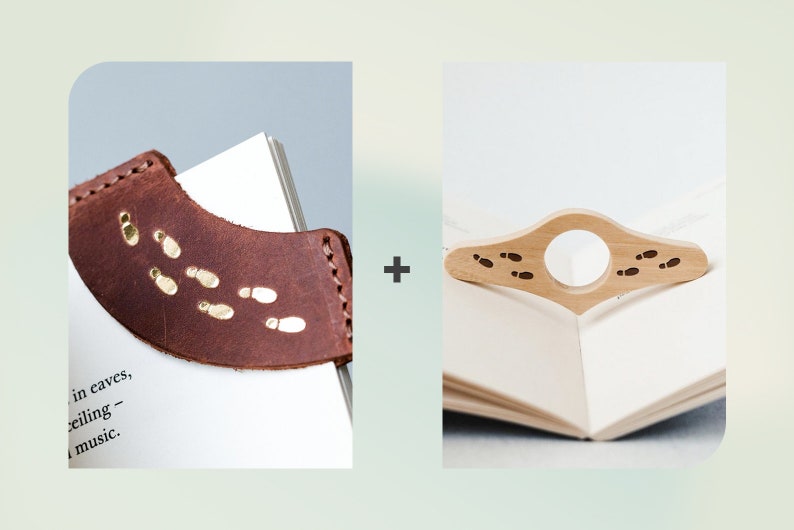 Leather Bookmark and Thumb Page Holder Set Available on Etsy
Book Pouch
If you're anything like me you tend to take a book with you most places, so you know how those edges tend to curl and get scuffed from being shoved in and out of a handbag/backpack. This book pouch/sleeve is the perfect solution to our problem! It's super pretty and it will protect our books from unsightly curled edges and marks. Perfect for keeping your book safe on the way to your picnic.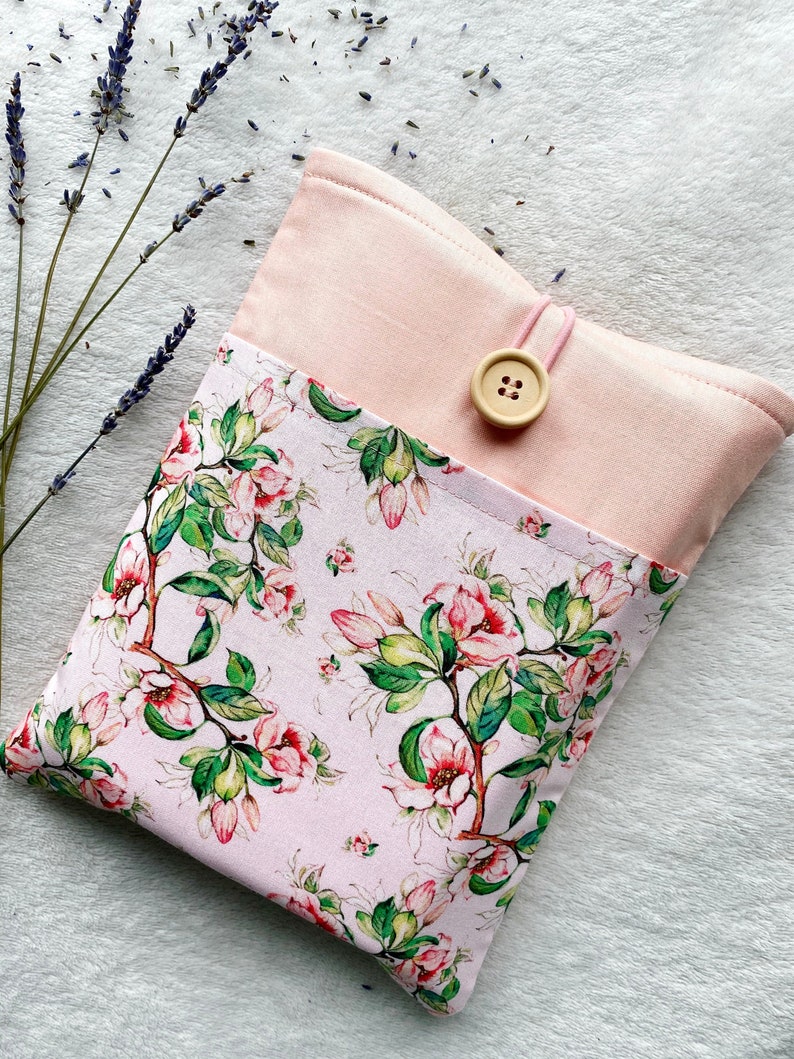 Floral Padded Book Sleeve Available on Etsy
Kindle
Oh, man, I wish the waterproof Kindle had existed when I was shopping for ereaders (about 10 years ago now I could probably get a new one). I would have enjoyed my poolside reading a lot more if I wasn't worrying about my kindle taking a trip into a puddle. Aside from it being waterproof, one of the main benefits to having a kindle is the sheer amount of books you can carry with you. If you're a fan of reading series like I am, an ereader is a must have. Even if you finish a book while on your picnic you have your next read there waiting for you.
Kindle Paperwhite – Waterproof Available on Amazon
What to Read
Beach Reads Box Set: Perfect Vacation Reads
This collection of eleven full length is perfect for the whole summer not just your bookish picnic and it's available on Kindle Unlimited.
Eleven full-length novels from several of your favorite bestselling romance authors. This special bundle features stories perfect for fun in the sun. A gift to our readers and a great way to introduce you to new authors to love, grab this beach bundle before it's gone!
ATTRACTION by Penny Reid
THE LEGACY by Dylan Allen
ARROGANT DEVIL by R.S. Grey
FLIRTING WITH THE FRENEMY by Pippa Grant
BROKEN MILES by Claire Kingsley
ALWAYS ONLY YOU by Chloe Liese
RESTRAINT by Adriana Locke
I DARE YOU by Ilsa Madden-Mills
TAPPING THE BILLIONAIRE by Max Monroe
THE WORST BEST MAN by Lucy Score
SOMEONE ELSE'S OCEAN by Kate Stewart
Don't forget to share this post with your friends using the Sharing Buttons below 🧡
Where to Find Me
The Perfect Bookish Picnic Instagram Story Templates