I love all those cool hand-drawn spreads people make for their bujo reading journals but I am way too impatient for that. I prefer to create collages using printable templates and various ephemera to go with a theme or colour scheme. I also love to track reading data and stats which requires a little bit more effort than just collaging. Luckily, I've come across some amazing kits on Etsy and if you're anything like me, you will find them very useful too.
Before we get into the amazing kits I've found, I have to mention the Reading Journal kits I've created for my Etsy shop. These kits lean more towards a junk journal or scrapbook style but could be easily added to a bullet journal as well. They're designed for adding elements to your journal as well as tracking and planning.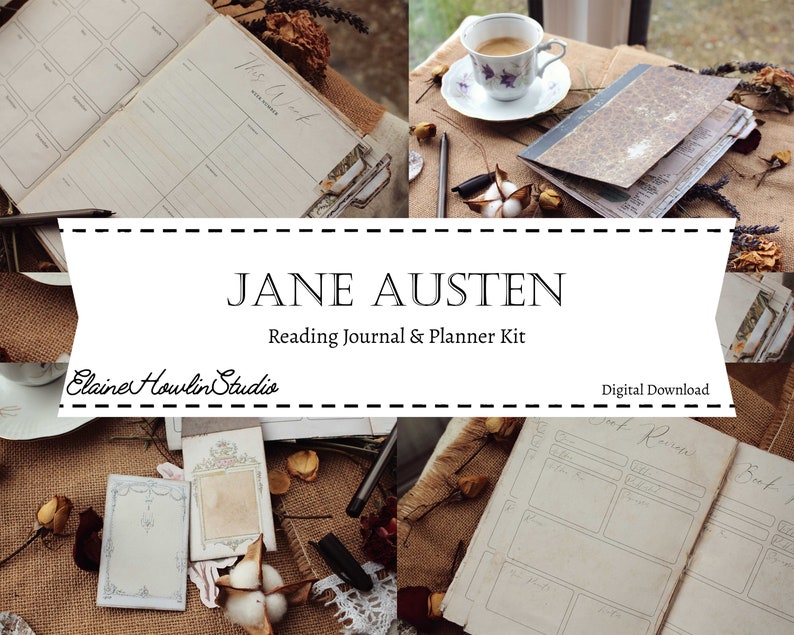 Printable Reading Journal from Astetixz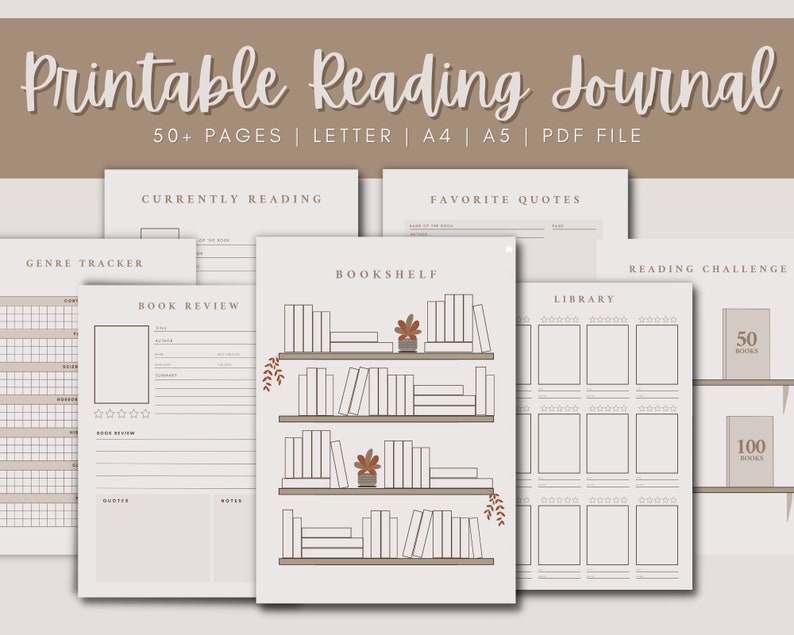 I love the aesthetic of this kit. It's just so neatly organised. It also includes a page for tracking books that you have lent to others which is very useful and has over 50 pages!!
Printable Reading Journal from ABCDeduprints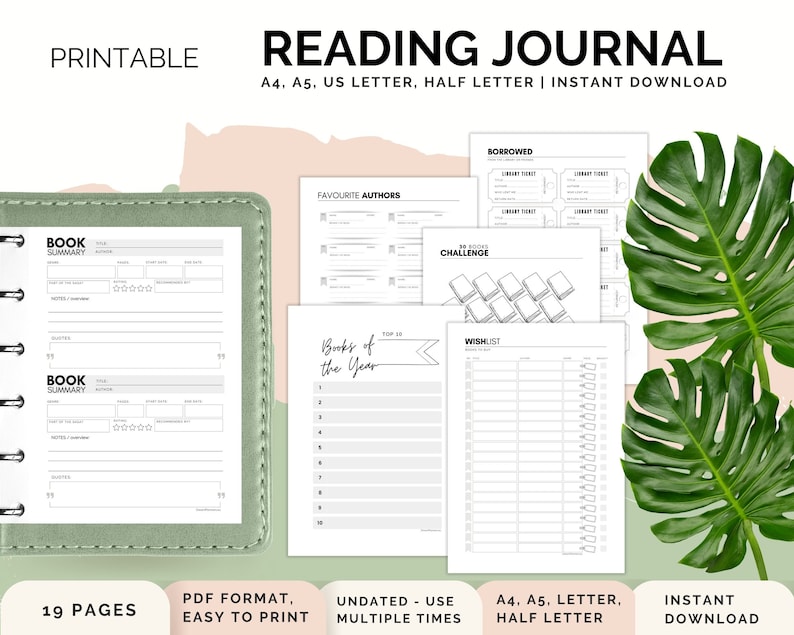 Another beautifully organised kit here. This one includes some hand-drawn elements but still very neatly arranged. I especially like the Favourite Quotes page.
Ultimate Printable Reading Journal from AdaptablePlanning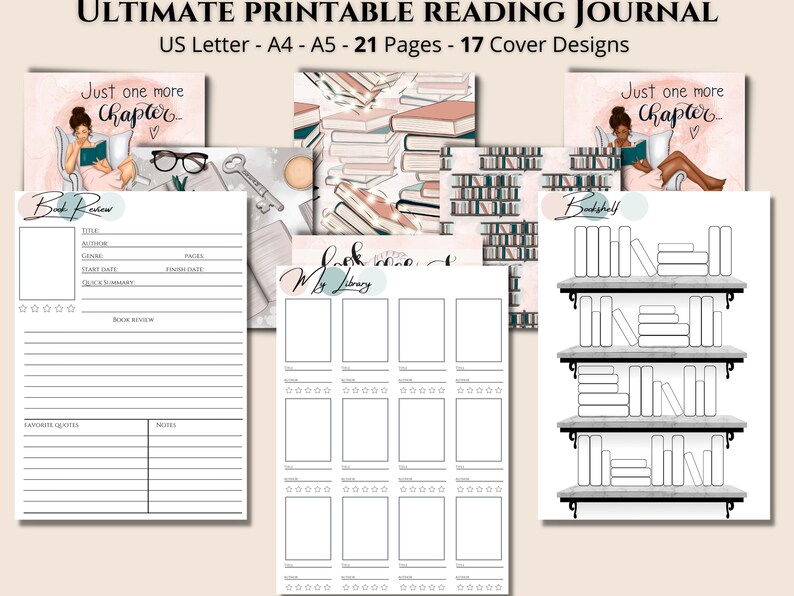 This beautiful kit comes with a range of 17 covers to choose from. Each one absolutely stunning! You could have a cover for each month and section. I like the inclusion of the Abonded Books page in this one as well. I like to discuss those books in my journal to give a more rounded idea of my reading.
Printable Reading Journal from ThePrintablePage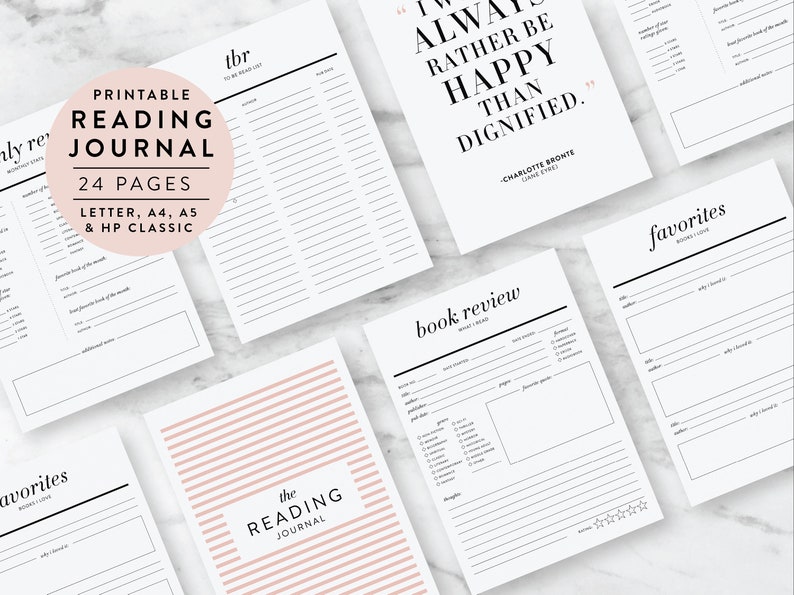 This kit is so classy looking and I love the Book Quote pages to divide sections of your journal.
Book Lover's Planner from AnalidaDesigns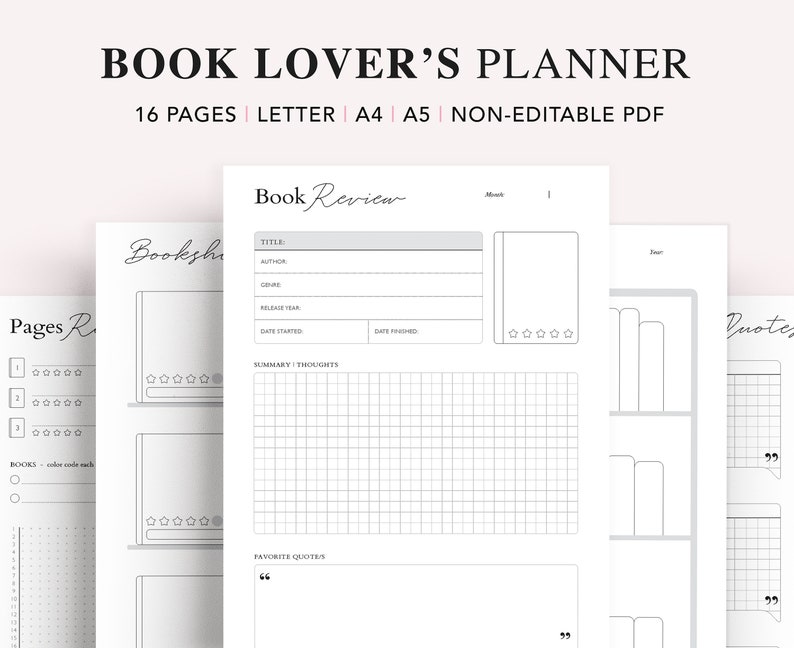 This kit is great if you love to write book reviews. It includes several review templates and a great way to track series.
Book Planner from NicePinkPrintables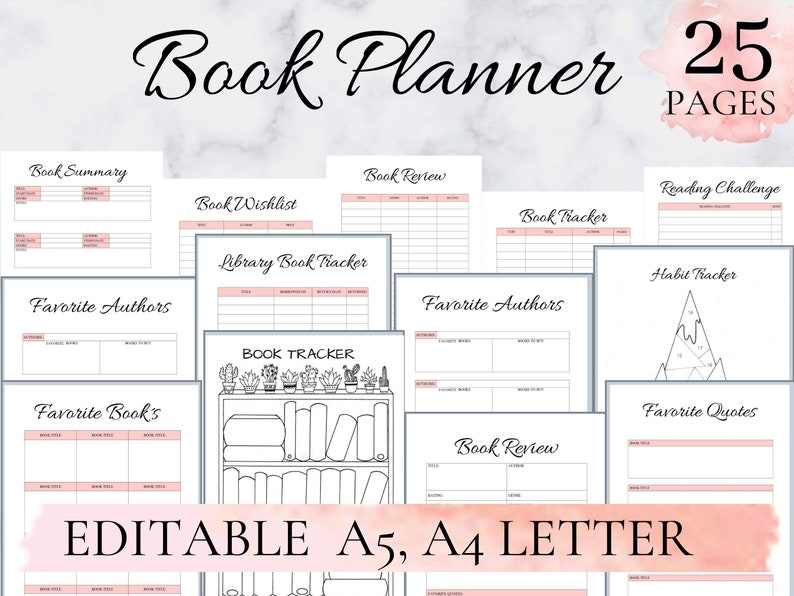 This pretty pink kit includes some creative ways for tracking goals and a handy Reading Challenge page.
Reading Tracker from CreativaCreations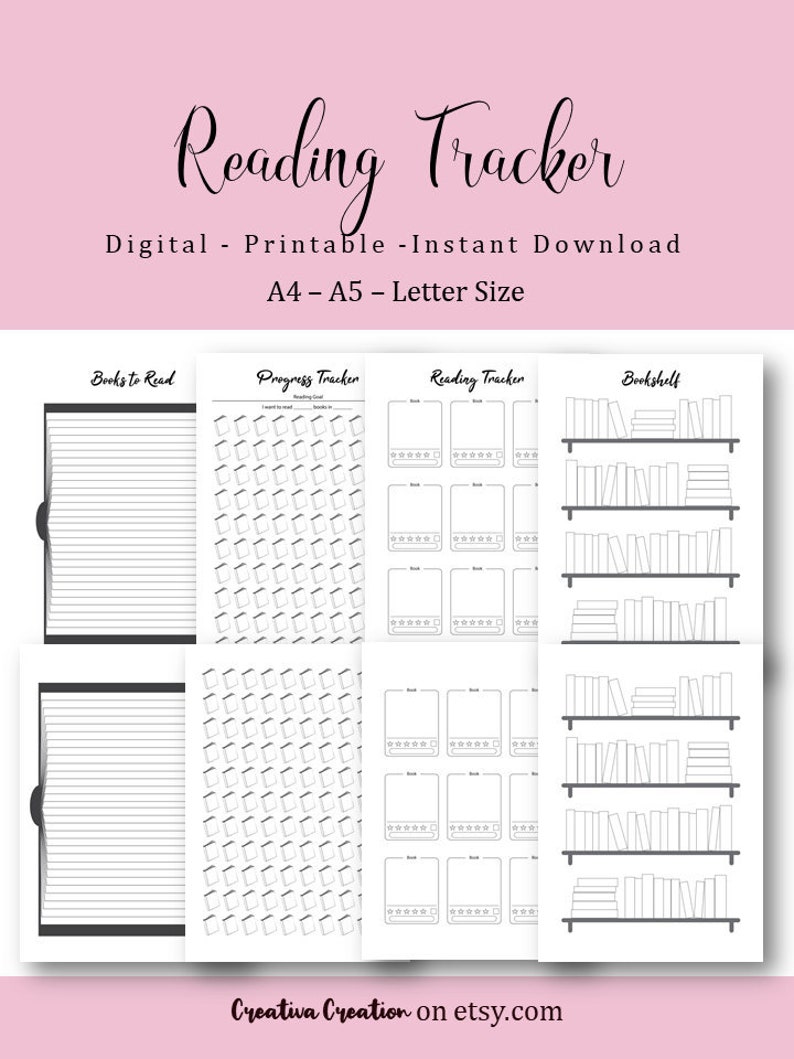 This kit is great if you just want to keep track of what you've been reading. I love how many spaces are included on the pages. This is a great one for people who read a lot and aren't too into writing reviews.
Reading Planner & Book Review Bundle from CoriBeePrintables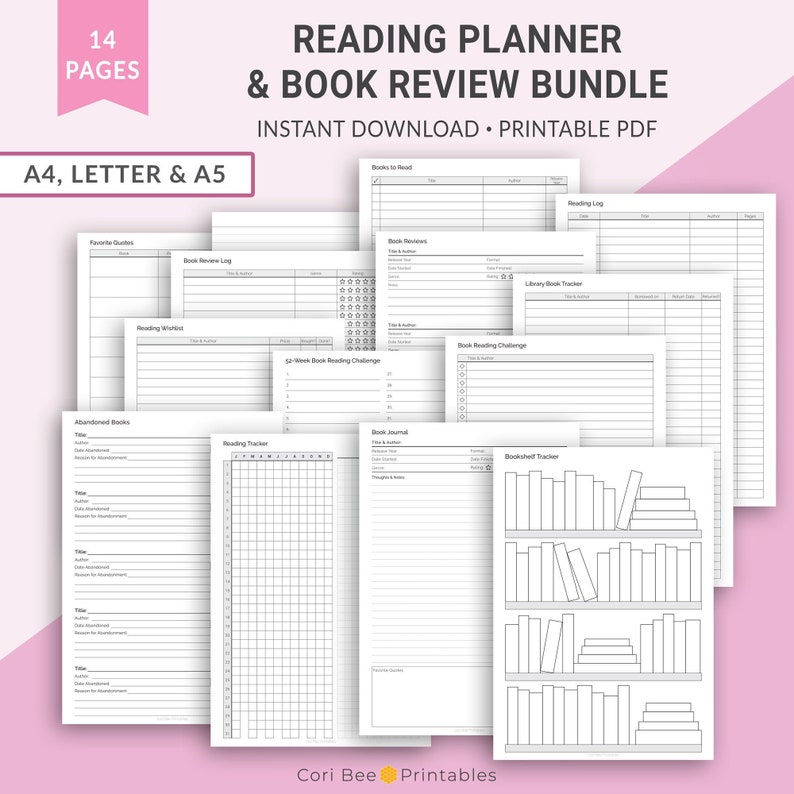 This kit is perfect for anyone who loves simplicity. It is so wonderfully organised and straightforward.
Book/Reading Planner from babypinkdigital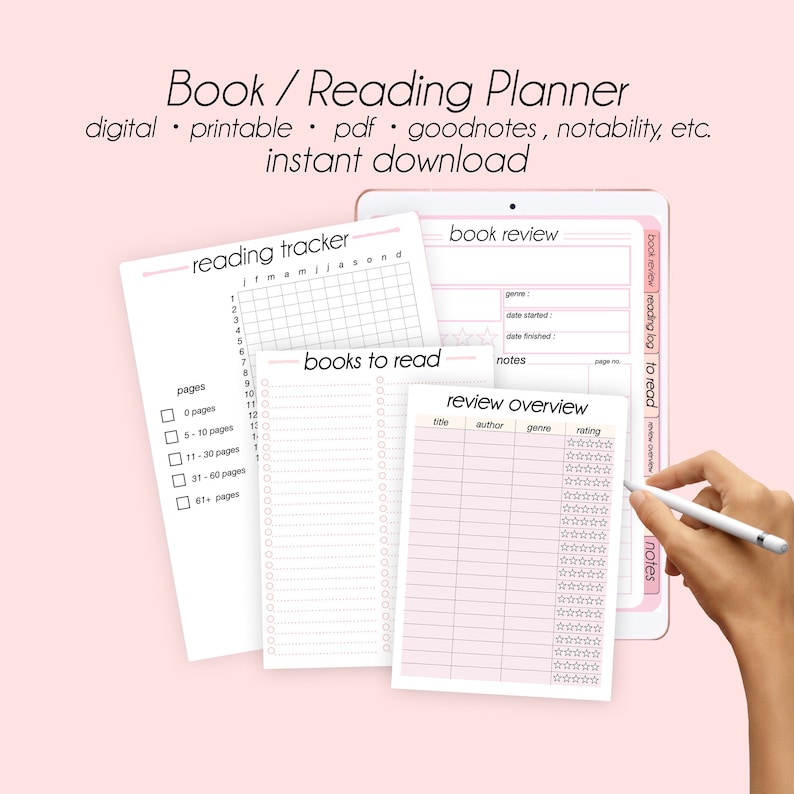 This wallet-friendly kit is perfect for anyone just starting with keeping a reading journal. It has the essential pages and can be used as a digital PDF journal as well.
Printable Reading Planner from EverythingPrintable1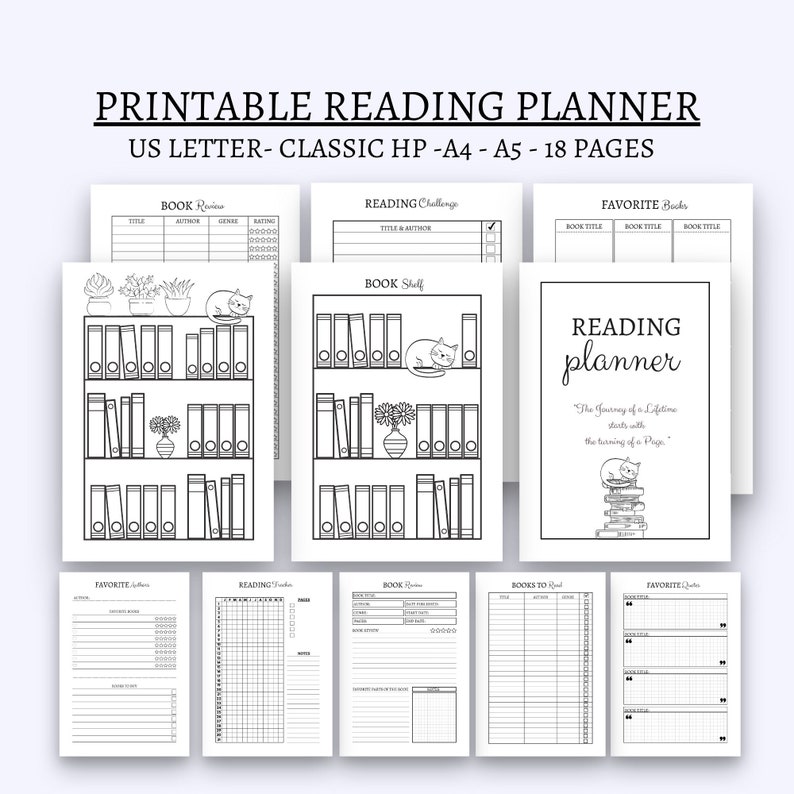 The Bookshelf pages in this kit are so cute! It includes artistic elements while still managing to be minimalist and organised.
Reading Planner 2021 from SashaDelaneyDesigns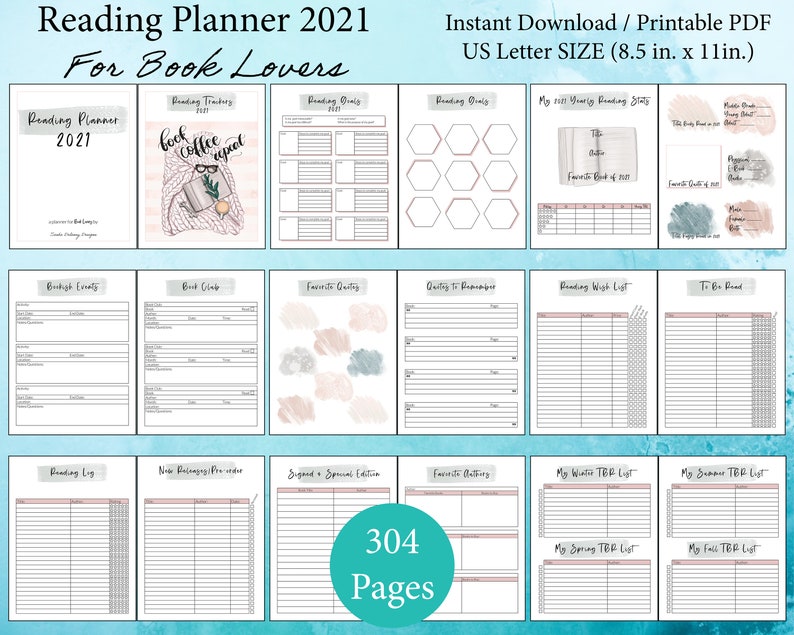 This kit is HUGE! 304 pages!!! Only problem is it does say 2021 on a few of the pages but you could easily cover over it with some washi or stickers. It includes a bunch of reading challenges, book bingos, seasonal reading TBR's, quotes and beautiful illustrations.
Reading Planner from PlansPossibilities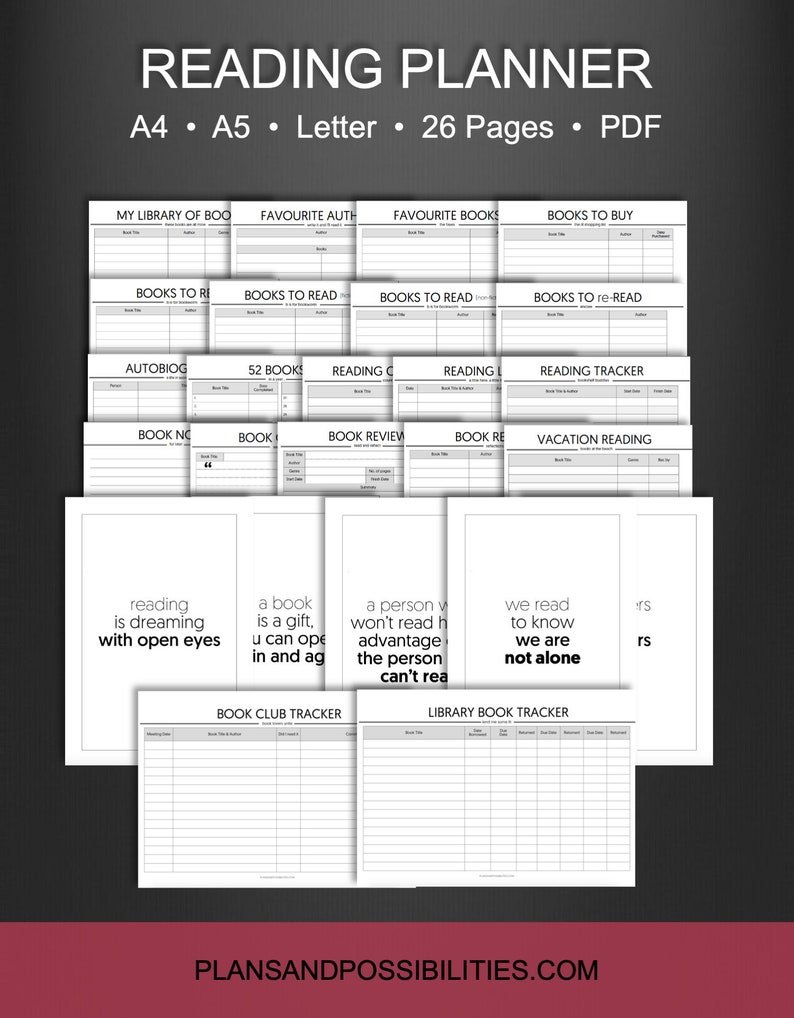 I love how minimalist this kit is. It might seem a little rigid but I love how organised it is. I love the inclusion of Vacation Reading and Book To Re-Read pages as well.
20 Book Reading Journal Pages from CandyPrintablesArt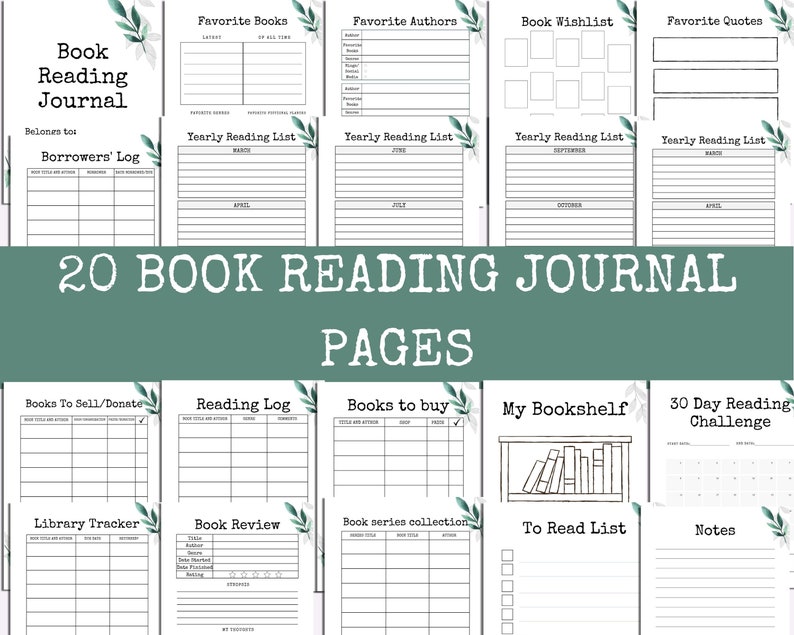 I love how aesthetic this kit is. The typewriter style font is just *chef's kiss* and the simple use of the green leaves on the sides adds a nice little splash of colour. I also love the inclusion of all those Favourites pages especially the Favourite Books page.
Don't forget to share this post with your friends using the Sharing Buttons below 🧡
Where to Find Me