Elaine
Howlin
Studio
My love of books and journaling lead me to the beautiful art of junk journaling and scrapbooking. Using the skills I learned in my job, I was able to create templates, reading logs and other crafting items.
I absolutely adore creating with paper whether it's journals, painting, or crafting. It's the most emotionally relaxing hobby I have found and does wonders for my anxiety. My goal is to share these items with you so you can enjoy these wonderful hobbies as well.
This post contains advertisements and affiliate marketing links. If you make a purchase from one of these links I will earn a commission.
❄️ NEW ❄️ Vintage Christmas Junk Journal and Ephemera Kit
Vintage Christmas Junk Journal and Ephemera Kit:
– 12 Collage Pages
– 5 Bookmarks
– 2 Envelopes
– 1 Pocket
– 7 Labels
– 5 Tags
– 1 PostCard
– 9 Ephemera Pieces
– 4 Stamps
Check out my other Christmas Kits https://etsy.me/3UFSMkO
Simply download and print at home as many times as you want! Print on both sides of each sheet of paper to create the junk journal as I have. Your download consists of three zip files containing 12 JPG collage pages, and 4 JPG template and ephemera pages.
What's in the 50% OFF Sale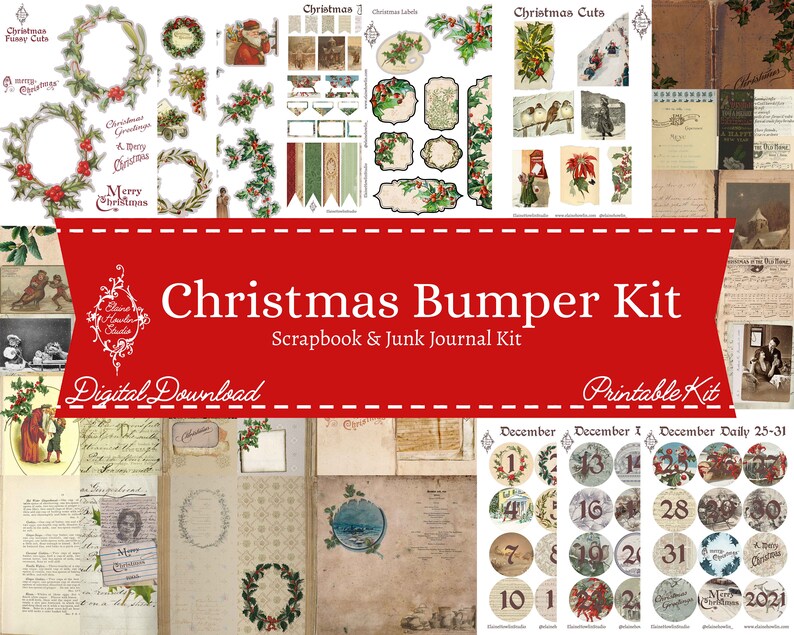 Christmas Bumper Kit
Christmas Junk Journal Kit contains 21 A4 pages of Christmas junk journal and scrapbook templates.
– 12 Collage Pages
– 33 Fussy Cuts
– 6 Christmas Labels
– 36 Round Numbered Labels (includes 2022 and 2023)
– 36 Journal Tabs
Mary's review of the Jane Austen Junk Journal Kit
Such gorgeous designs! I literally can't wait to print/get my hands on them! Thanks so much for the easy transaction; I'll be shopping with you again!
Kitty's review of the Rustic Vintage Junk Journal Kit
I love all these beautiful files and loved using them in my journal. All the material was well thought out and and I received as described, without any problems. Thank you for sharing such beautiful images!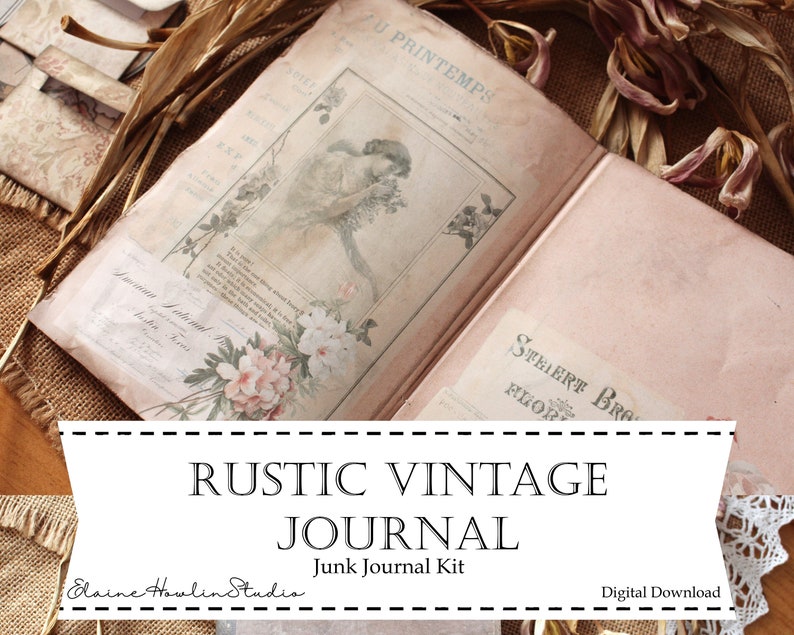 Don't forget to share this post with your friends using the Sharing Buttons below 🧡
Where to Find Me