Happy almost end of January! For the first time ever January has just flown by for me. Himself felt like it was the longest month but for me, it was over in a blink!. It might be because I threw myself into several journaling projects early in the month. I got all excited about creating new themed journals and of course, have yet to finish any of them. But hey, this hobby is all about creating so why worry about finishing 😉
I'm probably not going to work on any Valentine's projects but I do have a new Jane Austen kit in my Etsy shop that is kind of romantic (it is Jane Austen after all) that I will be adding to my latest journal. Will you be working on any Valentine's themed projects? If you are you might like February's Free Template in the newsletter. It's not particularly romantic but has some pretty pink florals that would be nice in a romantic junk journal. The newsletter will be sent out on February 2nd so you still have time to subscribe to get the free template.
Next month members of my mailing list will receive this template.
🌹 NEW 🌹 Red Rose Jane Austen Junk Journal Kit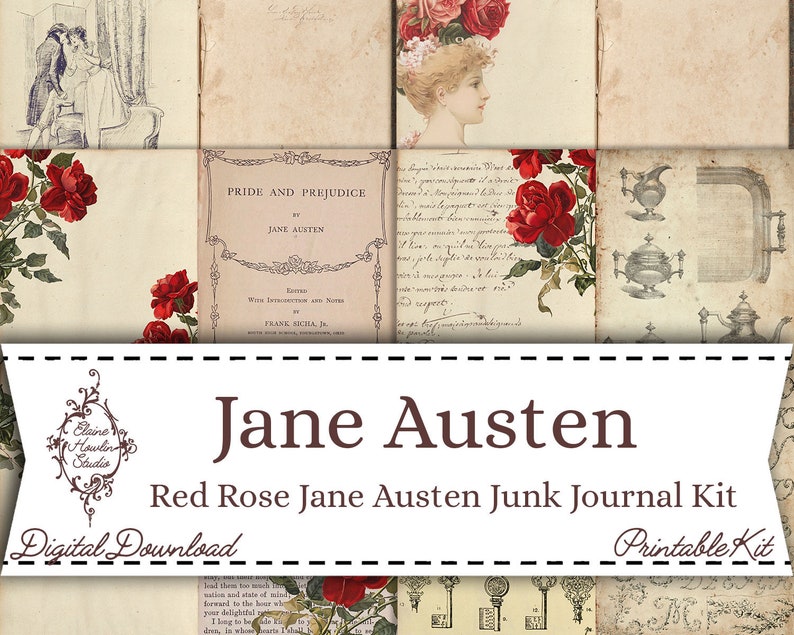 If you're new to the mailing list you also get this Floral Junk Journal Kit absolutely free. The kit is digital so you can print it as many times as you like.
Don't forget to share this post with your friends using the Sharing Buttons below 🧡
Where to Find Me